MAKE NOISE, NOT WAR!!!

Noise Performance @ Nospace Gallery

Nospace Gallery presents one and only noise event in Bangkok.
No electronics, no ambient, no nothing, but Noise!

Every first Saturday of the month at Nospace Gallery
We are open for everyone who has interesting about Noise, come to feel the Noise experience, see the rare performance and hear something that uncommon, uncomfortable and unpleasant (noise) from various Noise artists.

SATURDAY 5 JUNE 2010, 9PM-12PM @ NOSPACE GALLERY, Free Entry

Noise Performer:

MEGA LOW MANYA feat. GIWII NOT SHAKE & TOMIX

SONIC SCAPE ORCHESTRA

DALEYZ

Opening Acts by SPIKENSTEIN

And more…

Nospace Gallery
21/108 Block D, Royal City Avenue (RCA)
Bangkok Thailand 10320
084-1341184, 02-6414040
info@nospacebkk.com
www.nospacebkk.com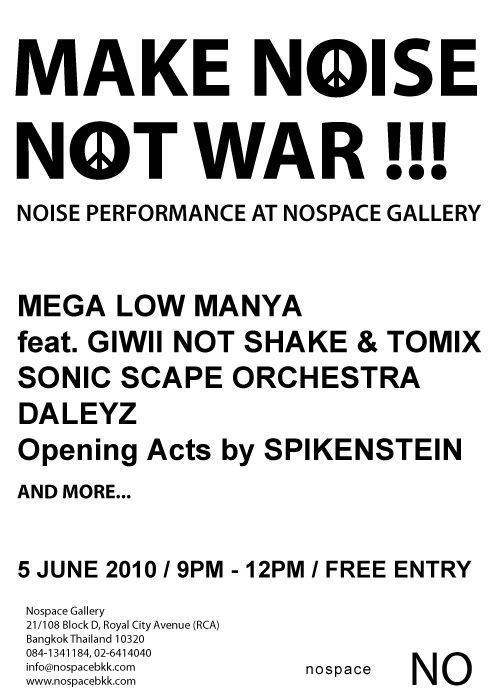 Welcome to the Noise club, We are open for every Noise Performer, everyone who loves to make the Noises, Thai – Foreigner are all welcome, Band, Solo, Jam Session, Featuring, anything and everything about Noise. Contact info@nospacebkk.com Let's make some Noise!